Alright, here is another installment of my itty bitty book reviews. These are most of the books I've read in the past while....I'm not very good at remembering to jot down titles and then I quickly forget what I've read.
I also started many many other books, but put them down mostly because they didn't hold my interest. These are the ones I loved and finished.
Human .4
by Mike A. Lancaster
Wow. So weird and creepy and suspenseful. My 12 yo sat down and read it in one sitting. A boy and three others from his town are hypnotized during a town talent show and when they snap out of it everyone in town is frozen in place. What happened while they were under? Oooooh! You'll just have to read it! It's so great.
But the cover kind of freaked out my kids. :)
Larklight
by Philip Reeve
This was a rereading. Steampunk, Victorian space travel, an orphan turned pirate, giant spiders trying to take over the universe...I love this book.
The False Princess
by Eilis O'Neal
Really great. A princess discovers she isn't the true princess and is sent back to the small town her real aunt leaves in. She tries to find her new place in the world. There's some magic. And a sweet romance with a childhood friend who is also a noble. Loved all her struggles.
Princess for Hire
by Lindsey Leavitt
This was another rereading. I love Lindsey's sense of humor. Oh. My. I would not be surprised if this series gets made into movies. Nope. Not at all. I need to get my hands on the next book. Such a fun premise...a girl substitues for princesses who need a break....throw in some magic, an unrequited crush, mean girls and ooooh....a taboo romance....yep. See? Totally fun.
But hey....where's the person to substitute for moms that need a break, eh?
The Roar
by Emma Clayton
Animal plague that makes the people of the world take refuge behind a giant wall around London? Goodnight Nurse. This was an interesting premise. And the surprising ending? Brilliant.
The Candleman
by Glenn Dakin
Oooooh, what a scary power! The kid can MELT people. Well, not just anyone. Murderers. Yep. You heard me. He can MELT them. Really great book.
The Clone Codes
by Fred McKissack
The whole idea with clones totally fascinates me. This is a brilliant story of a world where the clones are second class citizens. They're considered dumb menial servants. But then a teenage girl learns she's actually a clone and the government wants to snag her. Wow. World-changing, eh? As if being a teen isn't hard enough as it is. :) And then the chase is on. So great.
Fame, Glory and Other Things on my To-do List
by Janette Rallison
I love Janette's writing. She's witty and clever and her books are just so fun. This one is no exception. A teen who dreams of being a famous actress. An unhappy son of a celebrity father. A big school play. When the girl tries to manipulate the boy into getting his dad at the play (so he can see what a fabulous actress she is) there are some major problems. And a sweet romance.
Ivy's Ever After by
Dawn Lairamore
Ok. This one was more toward the beginning of the summer. I know I really enjoyed it. And it was about a girl who has to go into a tower guarded by a dragon when she's...16?...and then a prince is supposed to slay the dragon and win her hand in marriage. Spunky Ivy has other plans. This was a super fun read.
Miss Delacourt Speaks Her Mind
by Heidi Ashworth
Miss Delacoart Gets Her Day
by Heidi Ashworth
Alright, I just have to say that I love me some good clean fun and fluffy romances that keep me turning the pages in anticipation of the characters finally smooching. Especially if there are big ball gowns, tea parties and carriage rides. And these two fit the bill perfectly. Loved them.
The Viscounti House
by Elsbeth Edgar
This was different and interesting. A spooky old house with secrets. A curious girl trying to make friends. An outcast boy willing to help her with the mystery. Loved the relationship between the girl and boy. And the story of the past they unearth. And it's set in Australia. Cool, right?
Catherine Called Birdy
by Karen Cushman
I could reread this book endlessly. I'm not usually a fan of historical fiction, but I love Karen Cushman's writing. She is so funny. I've read all her books and loved everyone of them. Birdy is a young girl in medieval times desperate to keep from being forced into marriage (and she's like...13? 14? ack!) The lengths she goes to discourage the possible suitors is hilarious.
Ella Enchanted
by Gail Carson Levine
Mmmmm, love it. Such a great world she created. Love the curse and the adventure and the romance. Just brilliant.
Warp Speed
by Lisa Yee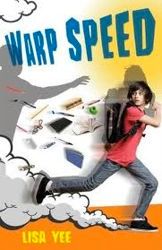 I don't usually read a lot of contemporary fiction. But I love Lisa's blog. She seems like a super fun person. And so when I stumbled across her latest book at the library I picked it up and started reading. Needless to say, I had to bring it home and finish it. A geeky boy whose obsessed with Star Trek deals with bullies, a cute girl that seems to like him and the fact that the coach has discovered how fast he can run (it's all that practice while bolting away from the bullies). The voice of this book was highly enjoyable. I love the main character. I love his family and how well they love each other. I love how the boy discovers that people aren't always who you think they are. Brilliant.